Once Was Lost by Sara Zarr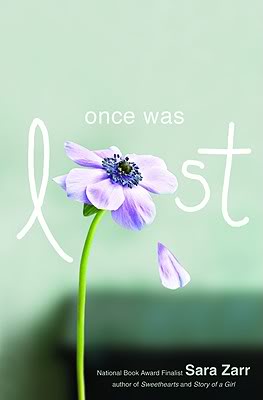 Pages: 224
Pub Date: October 13, 2009
Author Website/Blog:
http://www.sarazarr.com/
Synopsis: As a pastor's kid, it's hard not to buy into the idea of the perfect family, a loving God, and amazing grace. But lately, Sam has a lot of reasons to doubt. Her mother lands in rehab after a DUI, and her father seems more interested in his congregation than his family. When a young girl in her small town goes missing, the local tragedy overlaps with Sam's personal one, and the already worn thread of faith holding her together begins to unravel.
Definitely my favorite out of the two Sara Zarr novels I read. This one was kinda like a mystery. But it also had a broken soul. It was a nice combination. Most people tried to ignore the egging thought of who kidnapped the sweet little girl. Sadly growing up on Nancy Drew novels I cant say the same. I was like "I think its him... NO HIM!" In the end it was one person I considered but didnt hang onto for long ;) Just keep that in mind. Anyway this was just amazing. Your heart really goes out to all the characters, but I guess thats what Sara Zarr does :) Make you want to help every single person you read about that she writes. I loved this book. It was amazing and I hope you give it a chance :)