Rules Of Attraction by Simone Elkeles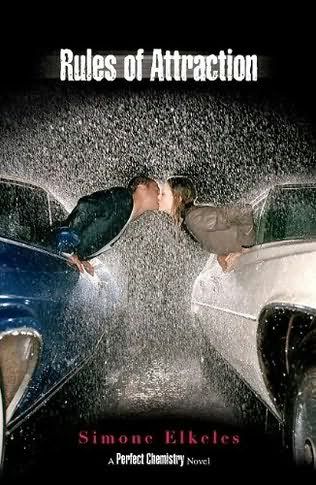 Pages: 324
Pub Date: April 27, 2010
Author Website/Blog:
http://www.simoneelkeles.net/index-web.html
Synopsis:When Carlos Fuentes returns to America after living in Mexico for a year, he doesn't want any part of the life his older brother, Alex, has laid out for him at a high school in Colorado . Carlos likes living his life on the edge and wants to carve his own path—just like Alex did. Then he meets Kiara Westford. She doesn't talk much and is completely intimidated by Carlos' wild ways. As they get to know one another, Carlos assumes Kiara thinks she's too good for him, and refuses to admit that she might be getting to him. But he soon realizes that being himself is exactly what Kiara needs right now.
I absolutely LOVE this series, however I think I may have to stick with book number one. I couldnt really connect with these characters as well. Also the rich guy bailing Carlos out all the time started to annoy me, it wasnt like Perfect Chemistry where he had to figure everything out on his own. This one it was pointless really. It annoyed me to no end, Carlos was just a whiny little boy, and the only drama was when he gets beat up. Yup so much fun. It was a romance. And not even a good one to boot. Simone, I love you, but please dont make the third book play copy cat, and if it does at least make it do it correctly.